Biophilia Recordings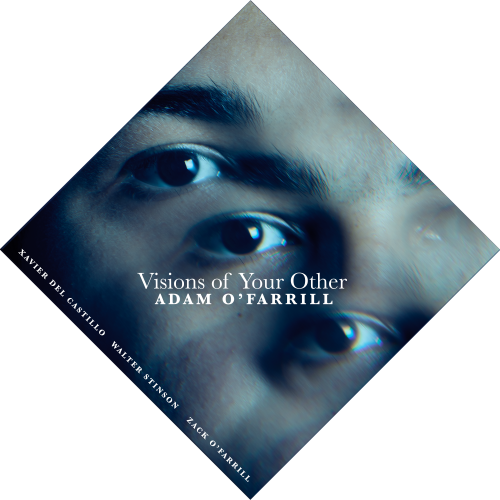 Adam O'Farrill
Visions Of Your Other
2021
"Visions Of Your Other is the third album by Adam O'Farrill's Stranger Days, one that takes the band back to its roots in original compositions after their Mexican folk music-inspired release, El Maquech. Adam and two of his bandmates, Walter Stinson on bass and Zack O'Farrill on drums, return along with the arrival of Xavier Del Castillo on tenor saxophone.
The album takes its title from a scene in Paul Thomas Anderson's post-WWII psychological portrait, "The Master", in which the main character, a veteran suffering PTSD, is interrogated about supposed visions he had of his mother.

In the vein of this theme of dueling realities, the album functions a study of conflict and contrast. The opening track, "stakra", takes Ryuichi Sakamoto's chromatic fantasy of the same name and extracts just a fragment of it, allowing the band to enter a deeper sonic meditation. Walter Stinson's "Kurosawa at Berghain" finds the meeting place between the rigidity of electronic house music and the spontaneity of acoustic, chord-less quartet. Adam wrote both "Inner War" and "Ducks" while staying and working at Morning Glory Farm in Bethel, ME in the summer of 2017, the former of which is a reflection of inner turmoil he felt when bringing chickens to be slaughtered. "Hopeful Heart" is a pseudo-lullaby inspired by the story of two lovers torn apart by circumstance, yet their uncertainty is lightly tinged with optimism. And the closing track, "Blackening Skies", was written from a climate change-induced anxiety, having experienced a scorching heatwave in NY within days of a summer monsoon in LA."
---